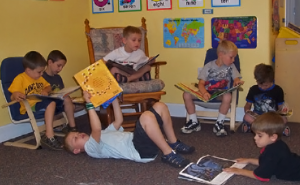 Evergreen Academy offers its facility in Redmond Oregon to families in need of preschool, childcare, school holiday days, school closure days, and summer break.
Registration is open to children ages 36 months to 9 years and are fully potty trained. 
Rates are based on a monthly fee and are due by the 10th of each month.
A one time registration fee is due when a family is registered into Evergreen Academy. This is a non-refundable fee.
Family Registration Fee: $100.00
Preschool, Pre-Kindergarten, Kindergarten and Childcare (3 years to 9years)
2 days a week :$253.00 (half), $360.00 (full)
3 days a week: $332.00 (half), $480.00 (full)
4 days a week: $405.00 (half), $570.00 (full)
5 days a week: $480.00 (half), $650.00 (full)
**Half days- 5 hours or less a day        Full days- Between 5 and 10 hours a day
Overtime Hourly Rate: $5.95
Overtime half day: $25.00
Overtime full day: $40.00
Private Kindergarten (9am – 2:30pm)
5 days a week: $480.00 (half), $650.00 (full)
Public School holiday breaks/no school days.
No public school drop-in rate: $35.00
Spring Break:
1 day-$35, 2 days-$65, 3 days-$90
4 days- $120, 5 days $135
Thanksgiving Break:
1 day-$34, 2 days-$62, $3 days-$88
Winter Break (per week)
1 days-$35, 2 days-$65
3 days-$90, 4 days-$125
5 days- $135
Summer Rates
Summer rates are the same as childcare rates posted above.
Summer Fee of $30.00 for t-shirt and field trips due at time of registration.
Other field trip rates may apply for school aged children during summer months